Natural Products Expo West is one of the largest trade shows in the natural, organic and healthy products industry. The show attracts over 60,000 industry professionals and 3,000 exhibits to the Anaheim Convention Center.  Natural Products Expo West is rated as one of the top 200 trade shows in the US by Tradeshow Week.
This March our All Natural team packed their bags and traveled to Natural Products Expo West in Anaheim, California! Within minutes after arriving at the Anaheim Convention Center to register and build our booth we realized this show was larger than life. We were assigned to the ballroom on floor three! Yes, floor three, as in there were four floors of natural products at this show! The third floor was full of 'New Products' and we are proud to say there was no sign of any other all natural lamb products.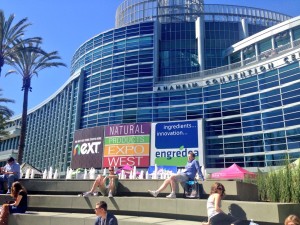 We spent all day Friday, Saturday and Sunday sampling and educating natural food manufacturers, distributors and lovers about our gourmet lamb products. Not very many people have ever heard of gourmet lamb jerky, much less tried it! The response to our product was great, everybody loved it; in fact it was almost impossible to keep samples on our table. The Natural Products Expo was an experience unlike another, along with spreading the word of our fantastic product we came home with loads of knowledge about other natural products. We enjoyed exchanging stories with other companies and trying all the delicious treats!  Anything you can think of, was probably at the Natural Products Expo West. We saw everything from supplements to animal treats to beauty products to gluten free Whoopie Pies and all natural energy drinks!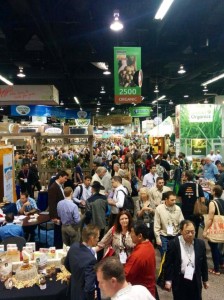 We definitely want to continue attending the Natural Products Expo West. The Expo offers much more than just ballrooms full of products. There are early morning yoga sessions, key-note speakers, networking events, live music and many more activities to enjoy. All in all our trip was a great learning experience and we look forward to an even better Expo West 2015!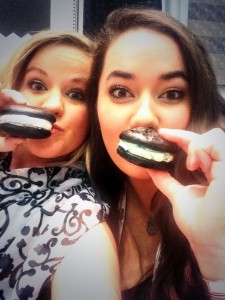 Charki Love,
Ranchline All Natural