Saturday, March 31st, 2012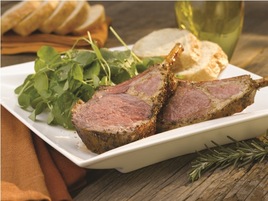 eas·ter
Noun:
1. The most important and oldest festival of the Christian Church, celebrating the resurrection of Christ and held (in the Western Church)…
2. The period in which this occurs, esp. the weekend from Good Friday to Easter Monday.
Why is Lamb popular during Easter?  Throughout the world the most popular Easter symbol is the lamb. The reference to lamb in Christianity goes back to the book of Genesis, When Abraham was asked to sacrifice his son.
In past centuries it was considered a lucky omen to meet a lamb, especially at Easter time. It was a popular superstition that the devil, who could take the form of all other animals, was never allowed to appear in the shape of a lamb because of its religious symbolism.
In the 7 th century the Benedictine monks wrote a prayer for the blessing of lambs. A few hundred years later the pope adopted it and a WHOLE roasted lamb became the feature of the Pope's Easter Dinner, and has been ever since.
It wasn't too many years before people decided that it was OK to roast parts of lamb instead of the whole bleeting thing. In the spirit of the old days here is a version of leg of lamb that can be done on the BBQ.
Little figures of a lamb made of butter, pastry, or sugar have been substituted for the meat, forming Easter table centerpieces.
In Greece Easter is the biggest holiday, and apparently most everyone roasts a whole lamb on a "Souvla" which is a large spit. I understand that a motorized one is not popular so if you are interested in doing a traditional Greek roasted lamb, they say it is good to have plenty of friends to help turn the spit.
In celebration of Easter, Ranchline All Natural has an incredible lamb package at a deeply discounted price – a $200 value for only $99.
The Gourmet Classic
One 5-pound package of leg of lamb
One 2-pound package of lamb shanks
One 5-pound package of ground lamb
Five 1-pound packages of ground beef
One 1-pound package of lamb roast
These All Natural tender, grass-fed lamb and Mission Ranch Angus beef cuts come from free-ranging livestock humanely raised on the pastoral foothills of the Felix River and verdant fields of Mission Ranch. Filled with iron and free of growth hormones and additives.  Naturally lean and shipped via two or three day service to ensure safe, sanitary transport without need for preservatives.  Use code "easter12″ at check out.  Order here.
From our Ranchline All Natural family to yours, Happy Easter!
History of Easter from KitchenProject.com.