Cold Weather? Football? Day That Ends In "y"? Must Be Time For Chili!
The winter air is still crisp and there are a few more weeks of football to enjoy tailgating or a backyard BBQ.  What dish could be better for either of those days than a nice hot bowl of chili?
This simple recipe will provide you with a nice pot of hearty chili, perfect for those "chilly" days!  In the spirit of our new 100% certified Angus Beef, this is the first beef recipe on the site.  Now we suppose that you could substitute lamb in the recipe as well.  We're not partial either way… as long as it's from Ranchline All Natural!   Be sure to check out our special football themed packages discounted and ready to ship for your Super Bowl party!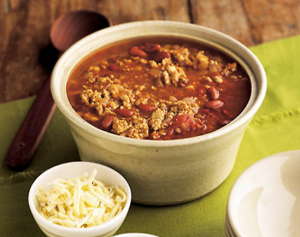 World's Best Chili
Courtesy of  freerecipes.org
A delicious, classic chili with beans, herbs, spices, and beef. Serves 10.
Ingredients:
2 lbs. Ranchline All Natural ground beef
46 oz. tomato juice
30 oz. tomato sauce
1 1/2 cups diced onion
1/2 cup diced celery
1/4 cup diced bell pepper
1/4 cup ground chili powder
2 teaspoons ground cumin
1 1/2 teaspoons ground garlic powder
1 teaspoon salt
1/2 teaspoon ground black pepper
1/2 teaspoon dried oregano
1/2 teaspoon white sugar
1/8 teaspoon ground cayenne
2 cups red beans, without liquid
Instructions:
Cook meat over medium-high until evenly browned. Drain and put aside.
Combine all of the ingredients in to a large pot. Bring to a boil, then immediately reduce the heat and let simmer for one to one and a half hours, stirring regularly.
Tags: all natural, BBQ, beef, chili, cooking, football, ground beef, tailgate