Trick or Treat!!!
In honor of rapidly approaching Halloween; we tried desperately to find a Halloween-themed recipe.  Unfortunately, lamb flavored candy recipes are hard to find… until we found this delicious recipe from The American Lamb Board!  Now, We're not entirely sure how the neighborhood would react to Lamb Lollipops in the trick or treat bag, (personally, I'd come back for seconds!) so this should probably just be a fun dish to eat while handing out candy to the little trick or treaters at the door.  Enjoy!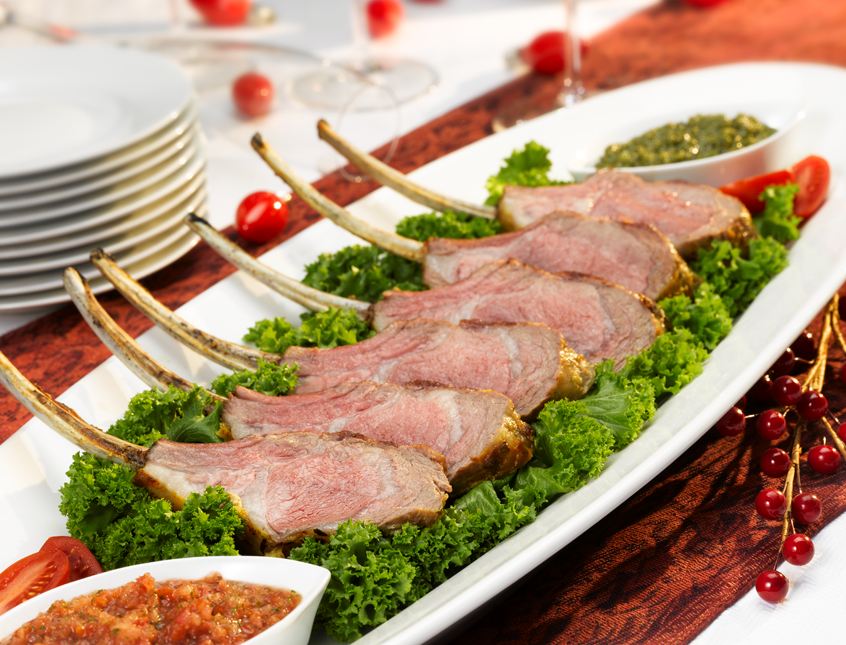 LAMB LOLLIPOPS WITH FESTIVE SAUCES
8 servings
Preparation time:  15 minutes (plus rest time of 1 hour)
Cooking time:  35 minutes
             1/2        cup Dijon-style mustard
                1        tablespoon balsamic vinegar
                2        tablespoons olive oil
                2        tablespoons minced fresh rosemary
                3        garlic cloves, minced
         1-1/2        teaspoons kosher salt
                2        Ranchline All Natural racks, frenched
Combine mustard, vinegar, oil, rosemary, garlic and salt.  Place the lamb in a roasting or sheet pan with the ribs curving down; coat the tops with the mustard mixture.  Allow to stand for 1 hour at room temperature.
Roast the lamb at 450°F for 20 minutes.  Remove from oven; cover with aluminum foil. Allow to sit for 15 minutes.  Cut into individual ribs; serve with Minted Tomato Sauce and Pesto Sauce
Minted Tomato Sauce
                1        clove garlic, crushed with a little salt
             1/4        cup water
                2        tablespoons olive oil
             1/2        teaspoon dried oregano
         1 to 2        tablespoons red wine vinegar
         2 to 3        tomatoes, crushed
                1        tablespoon lemon juice
                1        tablespoon chopped mint     
In a food processor, combine garlic, water, oil, oregano, vinegar, tomatoes, lemon juice and mint; blend for 1 minute.
Tags: all natural, American Lamb, cooking, Lamb, rack of lamb