Roasted Leg of Lamb With Feta Vinaigrette
In the spirit of the holidays, we are going to feature several recipes that will help you get the most out of your All Natural Lamb Holiday Special Pacakge.  Here is the first, featuring our boneless leg of Lamb.  A simple recipe that is bursting with traditional flavors! Great for those large family dinners!  Enjoy, and keep an eye out for more great recipe ideas!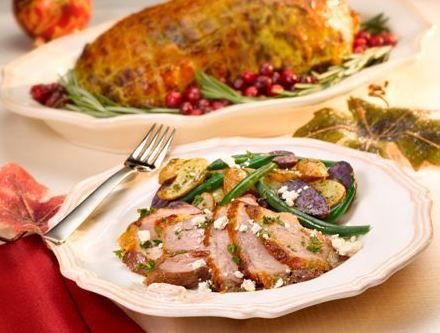 8 to 10 servings
Preparation time: 
Marinate time:
Cooking time: 
            1          Ranchline All Natural leg, boneless (6 to 7 pounds)
            1          pint plain Greek yogurt
            1          tablespoon curry powder
            4          cloves minced garlic
            1          teaspoon kosher salt
Mix yogurt, curry, garlic and salt; rub over lamb.  Refrigerate; marinate overnight.
Place lamb on roasting rack in a roasting pan.  Roast at 375°F for approximately 2 hours and 20 minutes, or until the internal temperature reaches desired doneness.  Remove from oven; let rest for 15 minutes.  Slice to desired thickness; top with Feta Vinaigrette.  Serve with roasted fingerling potatoes and green beans.
Feta Vinaigrette
            1/2       cup juice from 2 lemons
            2          ounces red wine vinegar
            1/2       bunch parsley, chopped
            4          ounces extra virgin olive oil
                        Salt and pepper to taste
            1/2       pound feta cheese, coarsely crumbled
In a bowl, mix together lemon juice, vinegar, parsley, oil, salt and pepper.  Add the cheese.
Recipe provided by the American Lamb Board
Tags: all natural, American Lamb, cooking, How To, Lamb, lamb leg of lamb, roast