Petite Rolls with Lamb, Mushrooms, and Red Onions
Having a more informal holiday gathering?  Don't worry, your All Natural Lamb Holiday Package has something for you too!  These delicious sandwiches make a great appetizer or finger food, perfect for snacking and socializing.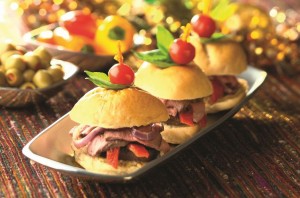 24 appetizer servings
Preparation time: 1-1/2 hours
Marinate time: 4 hours
Cook time: 1 hour and 15 minutes
               1             Boneless Leg of Lamb (1 to 1-1/4 pounds)
               1/2          cup prepared Balsamic Dressing
               1             teaspoon Dijon-style mustard
               1/2          teaspoon coarse ground pepper
               24           medium Portobello mushrooms, stems removed
               1/4          cup plus 2 tablespoons olive oil
               1/4          cup Balsamic vinegar
               1             large red onion, thinly sliced
               48           thin roasted red bell pepper strips, 2 inches long
               24           petite rolls, sliced
               24           frill picks
Trim all visible fat off lamb.  Place in a sealable bag.  In bowl, blend dressing, mustard and pepper.  Pour into bag; seal and rotate meat to coat.  Refrigerate for 4 hours to marinate.  Remove lamb from marinade and discard marinade.  Place lamb on roasting rack in pan.  Roast in 325°F oven for 50 to 60 minutes or until desired degree of doneness.  Remove from oven, cover and let stand for 10 minutes.  Thinly slice, cover and refrigerate.
 Place mushrooms on rimmed cookie sheet.  In small bowl, whisk together 1/4 cup oil and vinegar.  Brush all sides and centers of mushrooms with mixture.  Bake in 375°F oven for 15 minutes.  Remove and cool.
 In large skillet, heat remaining 2 tablespoons olive oil over medium-high heat.  Add onion made into rings and sauté for 6 to 8 minutes until lightly browned.  Cool and set aside.
 Place a mushroom on base of roll and lay on two bell pepper strips.  Top with sliced lamb and a few onion rings.  Secure top of bun to sandwich with frilly pick.
 Recipe provided by the American Lamb Board
Tags: all natural, American Lamb, appetizer, cooking, How To, Lamb, lamb leg of lamb, roast